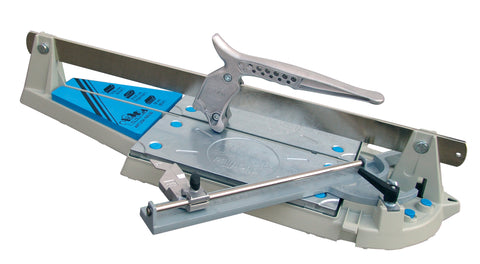 Tile Cutter Bi direction 254RA152 cuts 52cm
SKU: ProductVariantDrop
Barcode: ProductVariantDrop
Tile Cutter Raimondi 254RAI52 Bi Direction
• Maximum length of cut 52cm Diagonal 36cm• Ergonomic grip for bi-directional cut (pulling or pushing).
• No adjustment required for different tile thicknesses.• Scratch-resistant pads on the breaking feet wont mar delicate glazes.
• Cast aluminium board makes this cutter light, while the steel rail and roller provide superior strength with low maintenance (no seals).
• The cutting wheel is mounted with a pin that can be easily tapped out for quick and effortless wheel replacement (one size fi ts all).
• Pivoting fence for cuts from 0° to 75° with pre-marked stops at the popular angles of 15/30/45 degrees.
• A sliding stop that flips up out of the way to make additional cuts without losing your previous measurements.
• The spring loaded table and foam extension pads provide alternate breaking methods and the proper amount of impact absorption to
reduce broken tiles.• On board storage compartment for up to two replacement cutting wheels. See full
range of cutters.
---
We Also Recommend
---